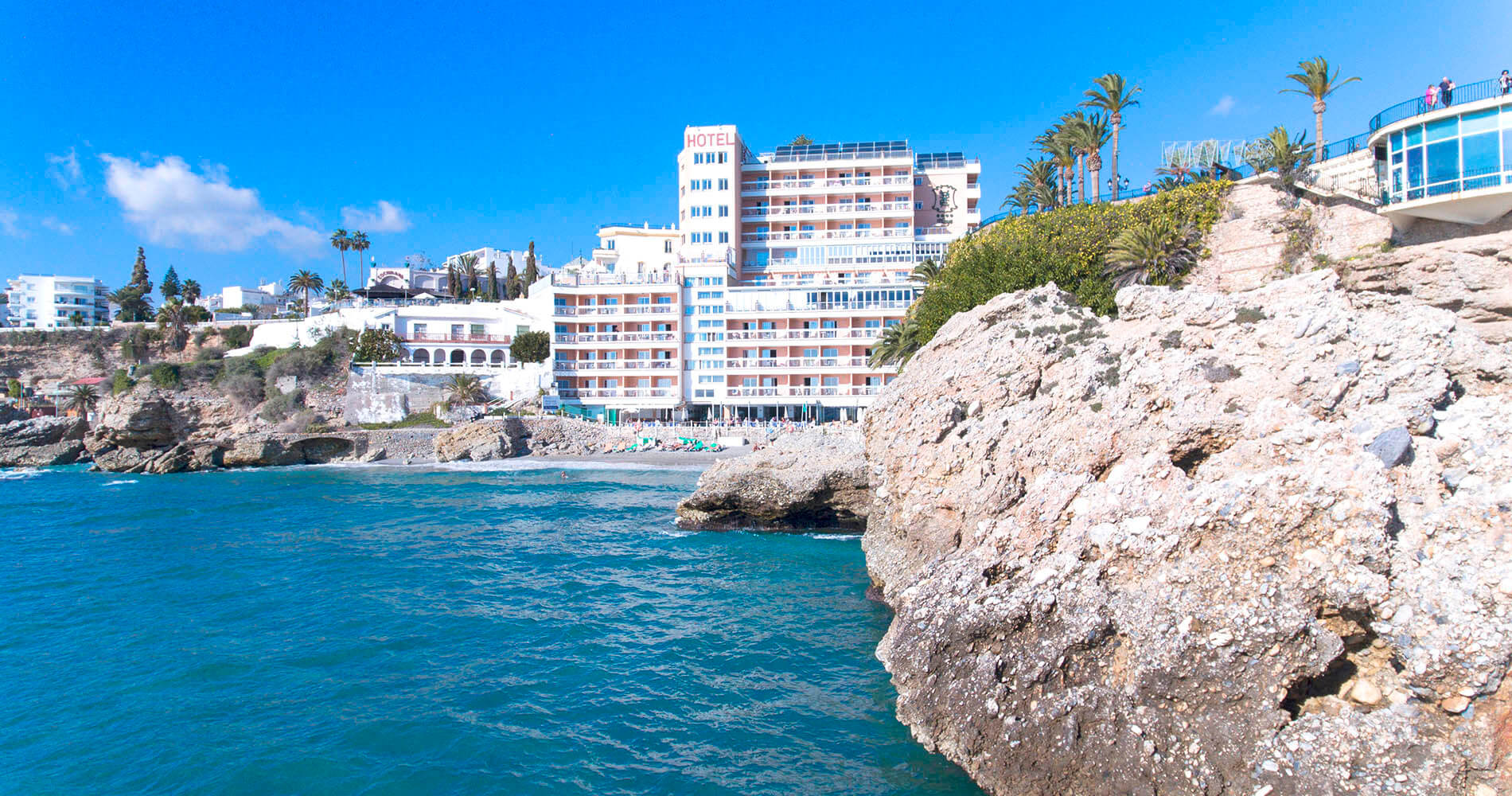 Hotel in the heart of Nerja
Incredible setting
Right on La Caletilla beach
On the Paseo Balcón de Europa
Great connections
Hotel with parking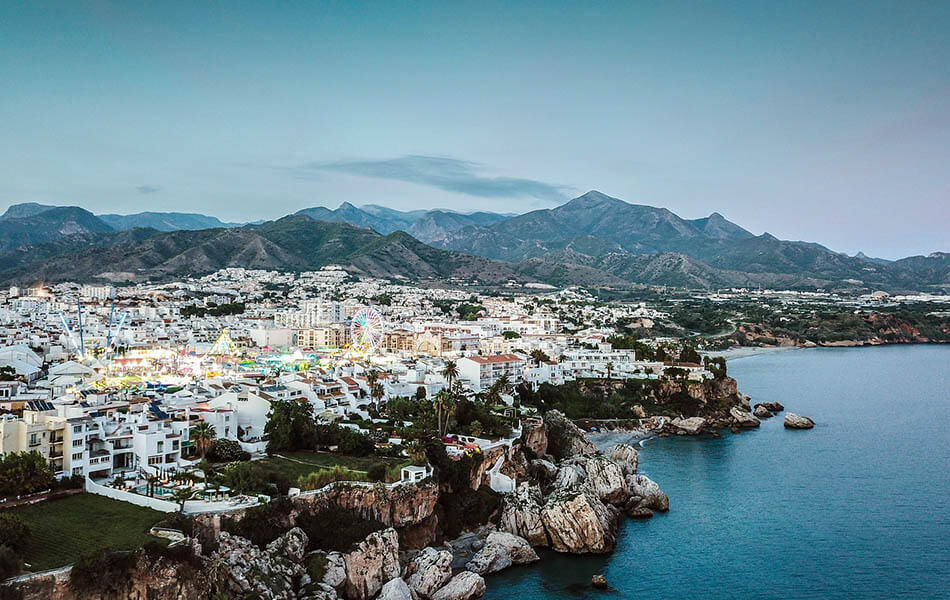 Fantastic location
in Nerja
The hotel is located on the famous Paseo Balcón de Europa, the vibrant promenade in the heart of Nerja and a viewpoint over the sea built on the ruins of a former medieval castle. We're right on La Caletilla beach, just a stone's throw from restaurants, shops and leisure activities.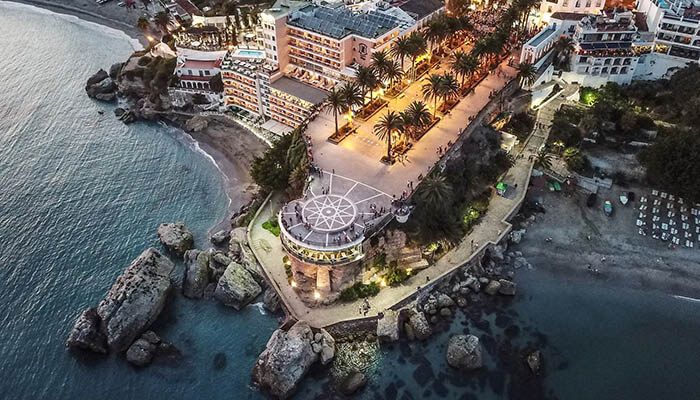 Transport and access
Booking a taxi from Málaga Airport
Contact us and let us know your flight number and arrival time. We'll take care of the rest! Please let us know the details (flight number and arrival time) at least 48 hours before check-in, either by email or by phone.
The cost is €70 each way (to be confirmed at the time of booking) for a maximum of 4 people, paid directly to the taxi driver.
Buses
From the airport to Málaga city centre: every 30 minutes, 7 days a week. From 7.00 am to 11.00 pm approximately (subject to change).
From Málaga to Nerja: check times on www.alsa.es
Parking
We provide private parking just 150 metres from the hotel, right next to the Balcón de Europa public car park in the Plaza de España. Due to its limited capacity, it's not always possible to confirm a space. However, we always take note of requests and spaces will be offered according to availability at the time of check-in. The cost is €15/night (VAT included).
To access our garage, head to the public car park mentioned above and park for a few minutes. Please call the hotel to let us know that you're about to arrive there. The porter will head straight over to park your car and bring your bags to the hotel.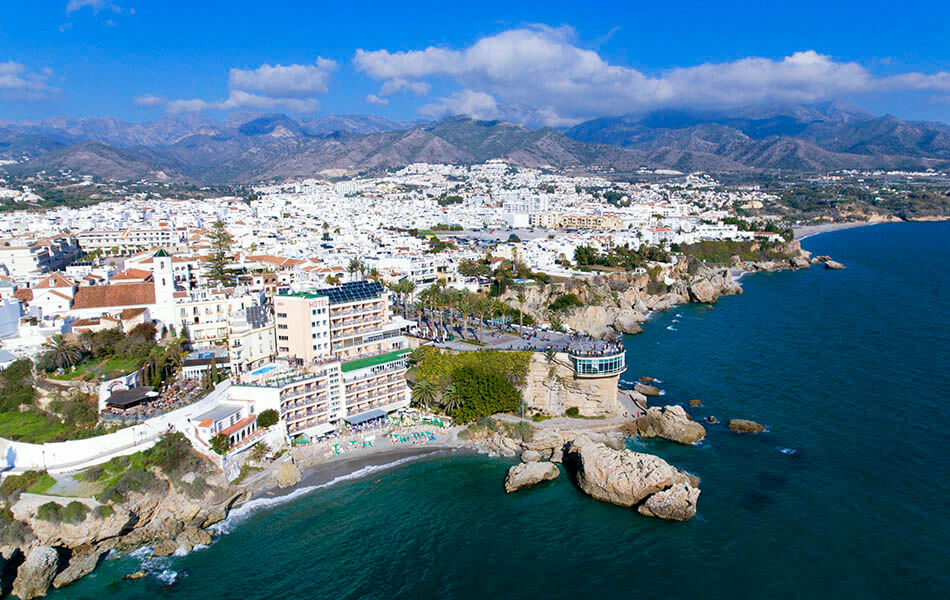 Nerja
The epitome of a quintessential Andalusian town, Nerja is nestled in a stunning natural setting surrounded by beaches with crystal-clear waters and the breathtaking mountains of the Sierra de Almijara Nature Park. Located in the eastern part of the Costa del Sol, just 55 kilometres from Málaga, its fantastic climate boasts an average of 320 days of sun per year with an average water temperature of 24°C in summer and 15°C in winter.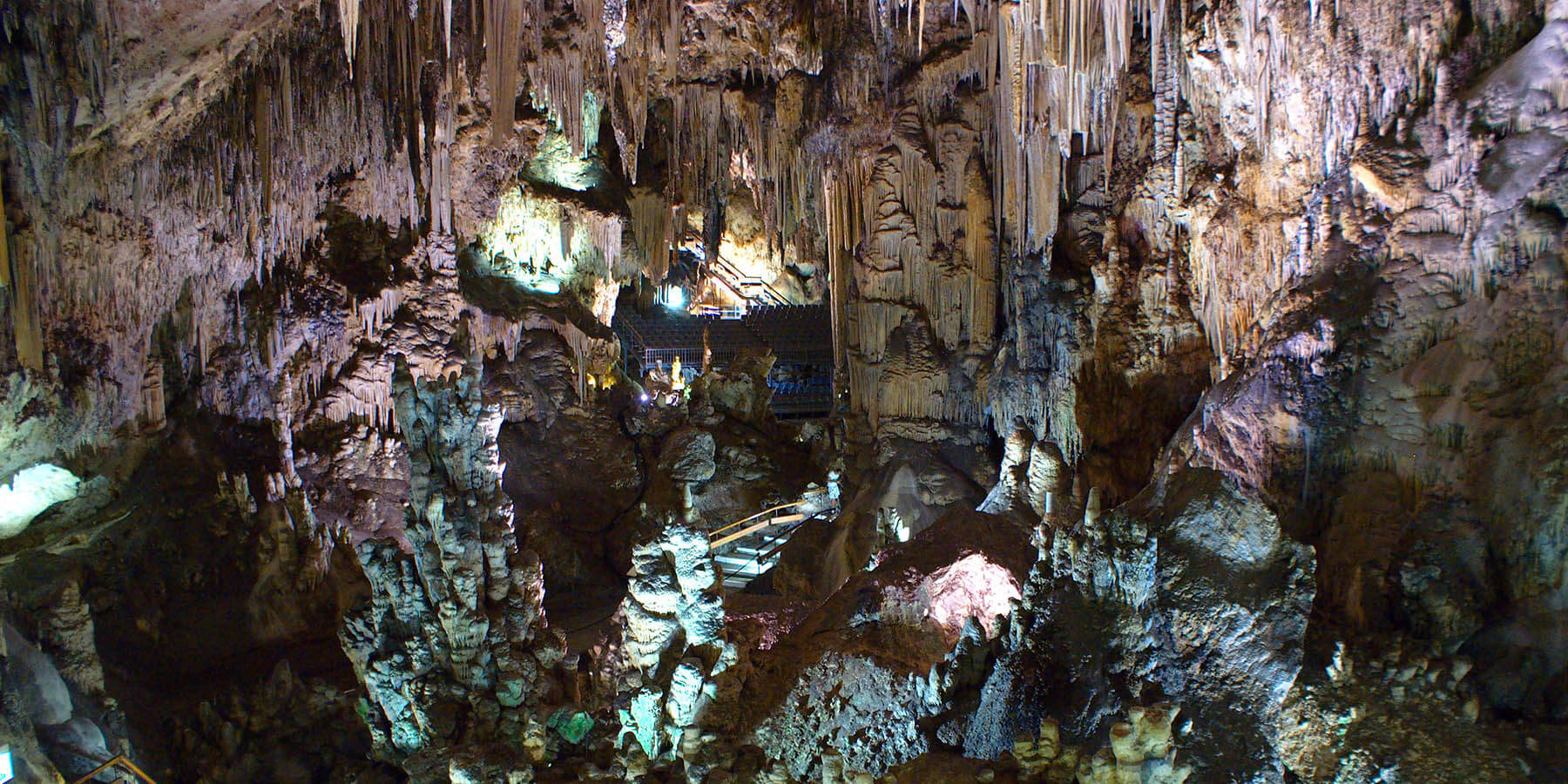 Caves of Nerja
The Caves of Nerja, nicknamed the Natural Cathedral of the Costa del Sol, are a true natural wonder just five kilometres outside town and first discovered on 12 January 1959. Five local boys from Nerja and the neighbouring village of Maro had spent the night watching bats at a local well known as La Mina. One of them decided to venture down a narrow passageway and was soon followed by his friends. After chipping away at two stalactites that were blocking the way, they suddenly came across a cavern that plunged them into darkness. They had discovered the so-called Cuevas de Nerja.
Read more
The caves were opened to the public a year later, following a series of archaeological digs to collect remains and find another more practical entrance. Each year, the Nerja Caves International Festival of Music and Dance is held within the caves. The very first event back in 1960 was actually the first time in the history of dance that a ballet (Swan Lake) had been performed inside a grotto. In 2012, archaeologists unearthed organic remains of paintings dating back 42,000 years, which – if confirmed – could be the first known works of art in the history of humanity created by Neanderthals.
Maro
Just 2.5 kilometres from Nerja on the way to Almuñécar is Maro, a village of some seven hundred inhabitants that boasts stunning cliff faces and pristine beaches that are the envy of the entire Costa del Sol. Just a few metres outside Maro is the Acueducto del Águila, a 19th-century aqueduct that was built to transport water to the former San Joaquín de Maro sugar mill.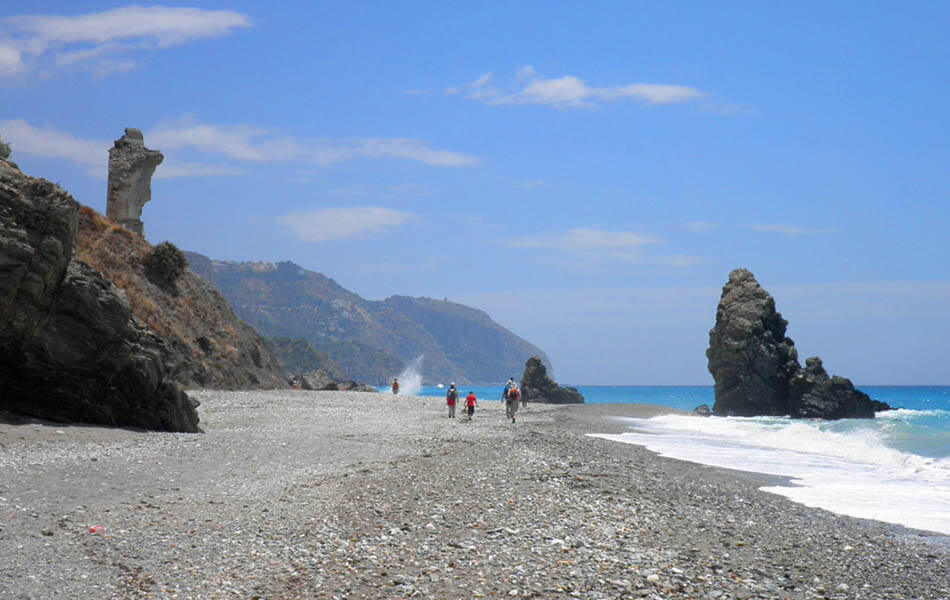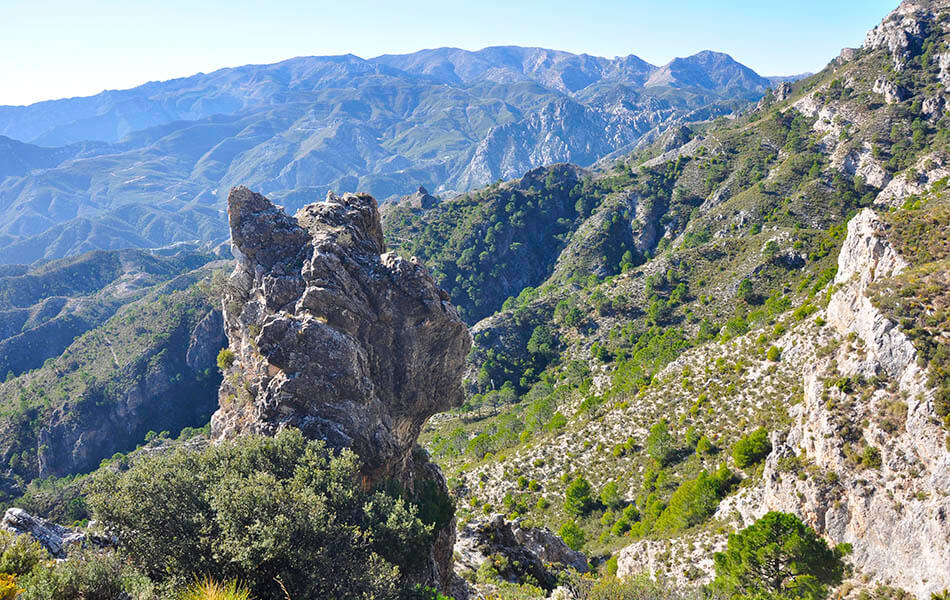 Fuente del Esparto
This fountain is a spectacular attraction within the Sierra de Tejeda, Almijara and Alhama Nature Park. There's a natural spring of drinking water, perfect for cooling down during a hike. And just few metres before the fountain is the El Pinarillo picnic area with barbecue facilities.
What's more, around sunrise and sunset it's very common to see mountain goats roaming around.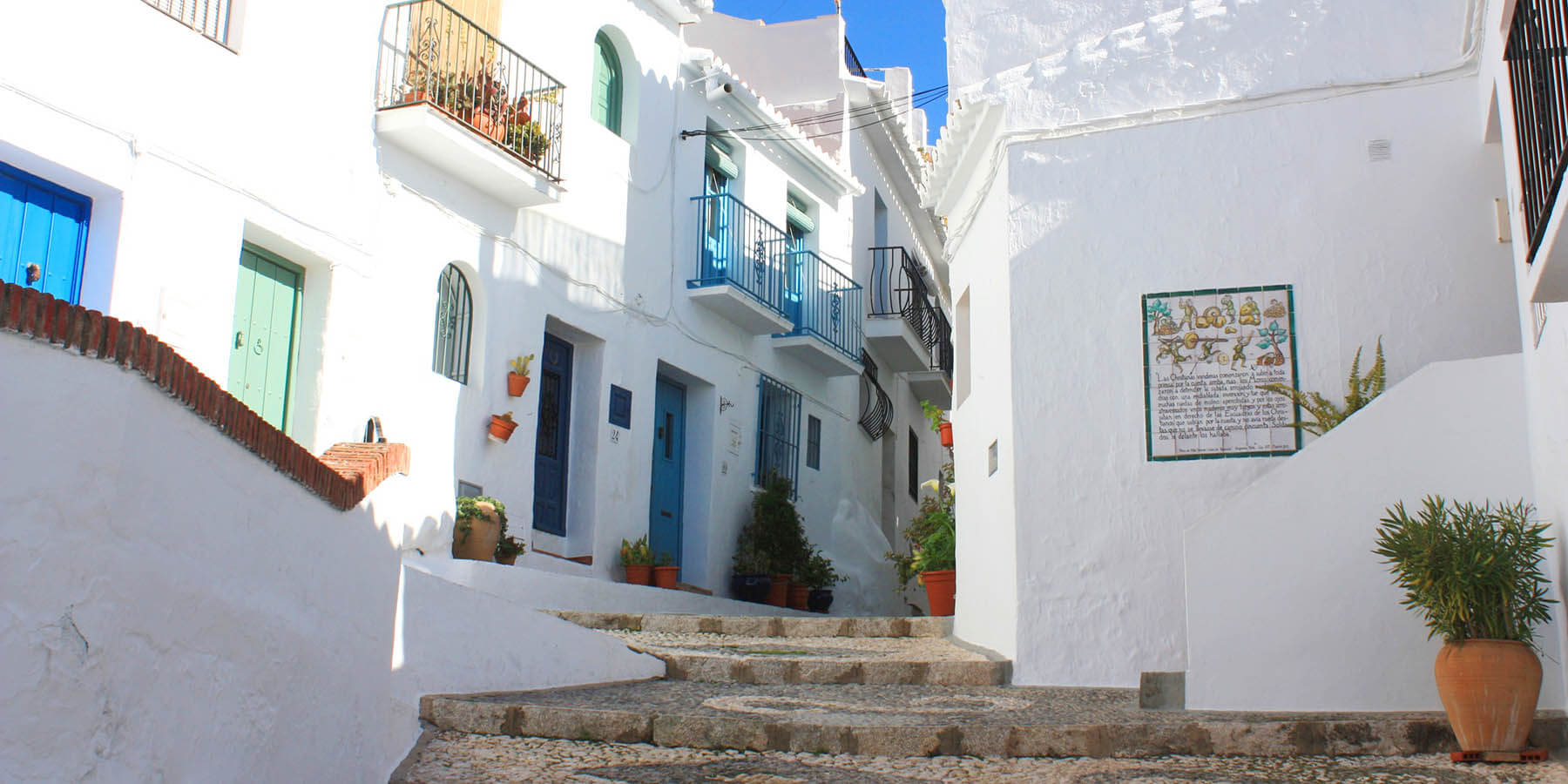 Frigiliana
Located right next to Nerja, this small country town of some 3,300 inhabitants, framed by soaring mountains and lined with textbook Andalusian whitewashed streets, is famous for being home to Europe's only cane honey factory. Other delights found here are its sweet wine and its simply exquisite olive oil.
Río Chillar
The source of this river lies 1,200 metres above sea level, in the Sierra de Almijara at the foot of the Piedra Sellada mountain. It flows for around seventeen kilometres down to its mouth in the Mediterranean. The most striking features of the river are its many waterfalls and a stretch known as Los Cahorros, a narrow gorge with a maximum width of two metres that's easy to reach on foot. What's more, hikers over the years have used stones to create 'pools' where you can enjoy a refreshing dip in the water. Without a doubt, a fantastic experience for nature lovers.